zoe, the sweet blogger over at prescriptions and pearls nominated me for a sunshine award! whoooooop!
post 11 random facts about yourself

answer 11 questions from the blogger who nominated you

nominate 11 bloggers

write 11 questions for them

inform the 11 bloggers that you nominated them for this award
i'm allergic to every single one of my favorite foods because they all contain wheat.
my biggest fear is not reaching my goals before i die.
vodka is the only alcohol that gives me a hangover, and gin is my favorite.
i created a fake myspace page in middle school as a social experiment.
i didn't learn how to ride a bike without training wheels until i was 10.
i don't know how to double dutch.
a genuine concern of mine is that if i didn't have a job, i would literally do nothing all day.
i've thrown away a lot of tupperware to avoid cleaning it.
if i had the body, i'd be nude all the time. i would move to a nude colony.
i was always the geek in school, and the coolest person at summer camp.
i'm moving back to my old school for my graduate degree this summer.
11 answers to zoe's questions
my first dream job: i wanted to be a veterinarian-pediatrician combo who published novels and styled hair on the side.
prized possession: this is going to sound crazy superficial, but it's definitely my laptop. my life is on there, including my writings, books, calendars, etc.
most exciting trip: this upcoming cruise to the caribbean is definitely my most anticipated trip to-date because it is my first cruise!
first thing i'd buy if i won the lottery: nothing. i would pay off all of my debt, including my car note!
favorite starbucks drink: very berry hibiscus refresher.
iPhone or Android: iPhone all the way!
favorite mean girls quote: "and four for you, glenn coco. you go, glenn coco!"
chocolate or vanilla: vanilla!
my favorite kardashian: n/a - i don't watch much tv so i don't really have a good grasp of who they are.
siblings: one older brother and one sister-in-law.
favorite holiday: Christmas, of course! it only took me until may to take down my tree.
my love language: quality time, followed closely by physical touch. (y
ou can find yours
here
)
11 questions for the nominees
skinny jeans or palazzo pants?
one color that completely sums up you personality, and why?
early riser or night owl?
control freak or controlled chaos?
favorite pin on your board?
best piece of advice you've ever received?
favorite drink at the bar?
tupperware or mason jars?
nominees (treat yo' self to an award!)
saving our strands
longing4length
going green: our army adventure
spuddy buddies
aka bailey
substance and soul
the alisha nicole
another clean slate
making melissa
relaxed thairapy
esther and jacob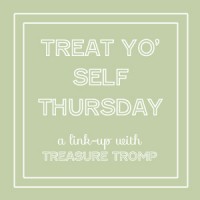 ♥


follow along! bloglovin' | twitter | pinterest | google+