I can hardly believe that it's already April, and it's even more unbelievable that I have had my mini-braids in for two weeks!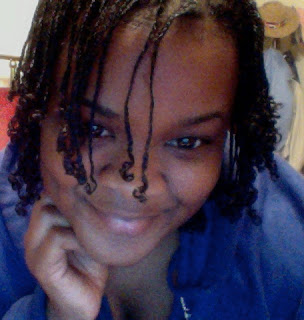 I'm 1/3 done with this style! Whoop whoop!
Anyway, even though I miss my hair and had a few thoughts of taking them down early, I have abandoned those thoughts and am determined to make it through these next 4 weeks.
I've actually really enjoyed the convenience of the braids and they look better as they get older because they aren't as scalpy. And if they start to look frizzy, all I'll need to do is rinse and apply a holding product. So far, I haven't had to do this, but as they get older, I may have to incorporate this step once a week. My hair always looks great after my weekly wash - they go back to looking just as fresh as the day I put them in (except with new growth... lol, but that lays down too).
Basically, this style is a win, and I can't wait until they are longer so that I can wear different styles. I haven't been able to do much besides pin back the sides because my hair isn't long enough. KinkyKurlyQueen's mini-twists styled in a
high bun
(or something similar, since her hair is MUCH thicker than mine) is my ultimate hair goal with the braids, and I hope that I will be able to reach it sometime next year.
By the way, I totally cashed in on that Shea Moisture BOGO sale I told you all about in my last post (you'll probably see a lot of reviews on them all over the web since so many people got in on the sale), and so far, I have tried and am in love with the Moisture Mist!
I had been using ApHogee Keratin Spray and Donna Marie Moisture Mist on my braids 3 times a week, but have completely replaced those with this spray.
Ingredients:
Deionized water, coconut oil, shea butter, silk protein, EO blend, neem seed oil, algae extract, hyssopus officinalis extract, sage leaf and equisetum arvense extract, honeysuckle and Japanese honeysuckle flower extract, vitamin E
Claims:
Eliminates frizz
Hydrates hair
Brilliant shine
Curl control
This product meets every single claim on my hair (at least, while it's in braids). You know how much I loved my DM Moisture Mist, and this completely blew it out of the water with the first spray. For one thing, it doesn't contain glycerin, which is a major bonus because my hair has a love/hate relationship with glycerin (regardless of the weather), which also means that it can be used during any season without having to worry about dew points or humidity.
Also, while the DM Mist was watery, this mist has more of a creamy texture. It moisturizes my hair better and retains the moisture. And because it already contains protein (silk) and strengthening (neem oil) ingredients, I feel I no longer need to use both the ApHogee 2-Min Keratin, the green tea spray, AND the DM. It works as both a strengthener and moisturizer. It smells amazing (although I've heard some people don't like it), and it does all the things it says it will do. I'm completely sold.
Rating: 5+/5