i am officially 26 and 1/2 years old today, which means only 3.5 years until i'm 30!
i feel ridiculously old...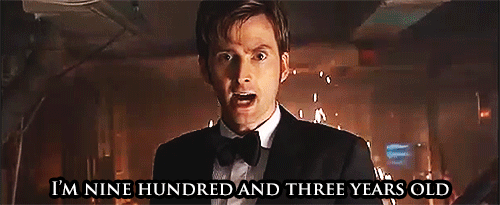 ...and then i feel even more ridiculous because neither 26.5 nor 30 is old.
when they said young people think they're immortal, i chuckled at the idiots who thought they would never age. joke's on me.
anywho, it has been a little over four years since i graduated from college and SO many things have happened. my life is drastically different than i ever would have imagined! and since i know just how much can be accomplished in a year, i am convinced i can cross all of these babies off by january 22, 2018.
wish me luck!
1. obtain a masters degree in higher education.
2. grow my hair to terminal length.
3. complete a successful spending freeze.
4. participate in the 3.2 run in remembrance.
5. learn to speak a new language and live in the country of origin for a while.
6. work on an organic farm through wwoof.
*i will most likely complete 6 in accordance with 5*
7. scratch three destinations off of my travel list.
8. attend mardi gras.
9. try something i never thought i would do.
10. plan a major event.
11. go bungee jumping.
12. attend at least five concerts/festivals.
planned thus far: trillectro DC - aug 2014 | music midtown atlanta
-
sept 2014
13. rent a houseboat.
14. live within six hours of a vineyard (about how far my car goes on a full tank).
15. perform on stage again.
16. downsize enough to fit all of my belongings in my car.
17. work in a bookstore/library.
18. learn how to cornrow.
19. be completely consumer debt-free.
20. learn how to record and create amazing HD videos for capturing special moments.
21. attend the graduations of all of my former Houstonian students.
22. finish and publish my book.
23. go to a naked spa or a nude beach.
24. learn how to double dutch.
25. master 10 hatha asanas.
26. go scuba diving and/or snorkeling.
27. become a resident tourist: go on 41 outings in whatever city in which i happen to reside (one per month beginning august 2014)
28. ride in a hot air balloon.
29. completely throw out my scale.
30. get a tattoo/nose piercing.
♥


follow along! bloglovin' | facebook | twitter | pinterest | google+